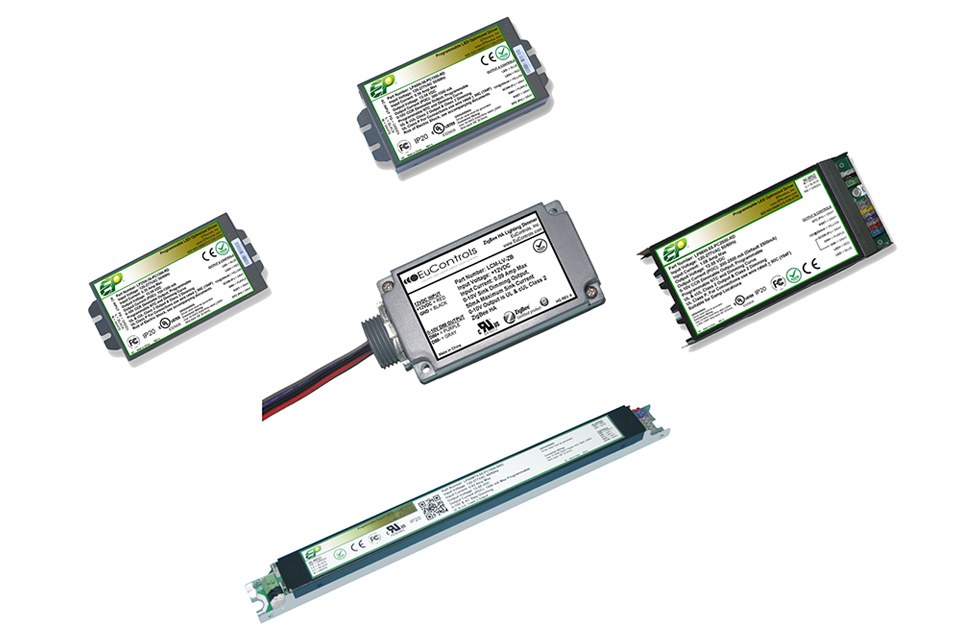 EPtronics is pleased to announce that its latest LP Series of programmable flicker-free LED drivers are immediately compatible with Zigbee wireless lighting controllers from EuControls, a sister company of EPtronics. EuControls' LCM lighting controllers are ideal for new and retrofit lighting fixture projects that require Zigbee protocol compatible 0-10 V on/off/dimming control with Dim-to-Off support.
The LCM-LV-ZB model lighting controller connects directly to an LP Series driver's 12 V auxiliary power output inside the lighting fixture, eliminating the need for a separate power supply. This LP Driver–LCM combination is a winning solution for any OEM fixture manufacturer wanting to offer simpler wireless fixture control.
The EuControls LCM-LV-ZB Zigbee lighting controller is equipped with a +20 dBm long range radio and is UL, FCC, RoHS, and Zigbee (HA 1.2) certified for worldwide operation. It is compatible with Current by GE's Daintree Networks' ControlScope platform as well as other Zigbee HA 1.2 gateway platforms.
The EPtronics LP Series drivers are part of UL's Class P driver program and are available in 25 W, 40 W, 55 W and 96 W power platforms. These drivers are rated IP20 and can be pre-programmed to customer requirements during manufacturing or re-programmed in the field using EPtronics' USB programming tools.
For additional information, please visit eptronics.com or contact sales@eptronics.com.
About EPtronics:
EPtronics, a leading manufacturer of solid-state lighting power supplies, offers the broadest selection of UL recognized off-the-shelf and custom LED drivers. Our US-engineered products ensure that you receive exceptional performance and reliability to satisfy all your technical requirements. All EPtronics products are protected by a standard 5-year limited product warranty.

To download datasheets for EPtronics' LP Series programmable drivers and to learn more about EPtronics, please visit EPtronics.com. Call us today to discuss your LED power and control needs with our friendly LA-based staff, who are ready to provide solutions for your unique lighting applications.