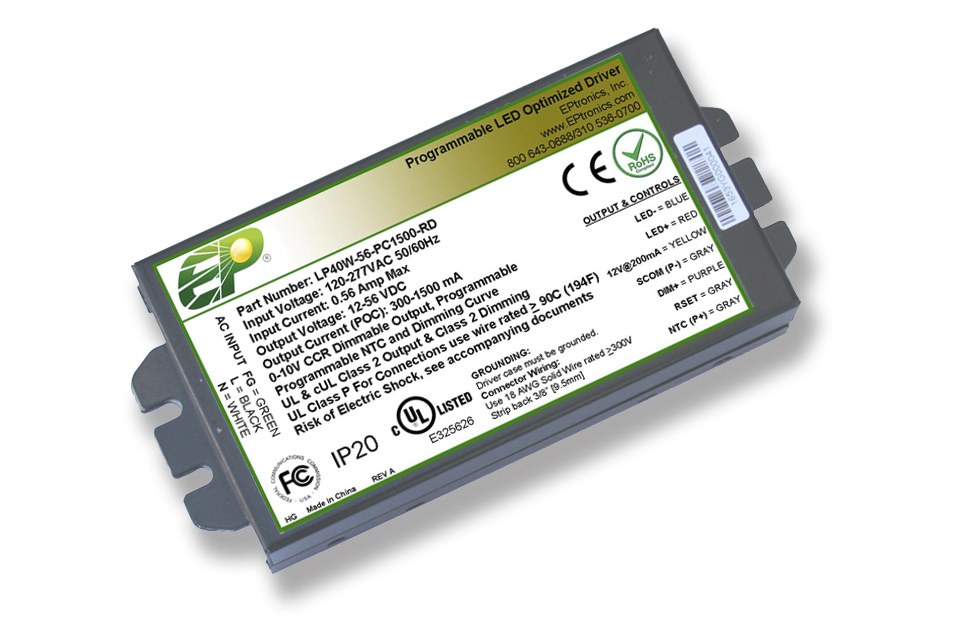 EPtronics is delighted to announce its newest generation LP Series of programmable constant current LED drivers. The LP25W and LP40W Rev C Series are the latest flicker-free, best-in-class drivers included in UL's Class P LED Driver Program. This UL listing program can save significant time and costs for LED luminaire manufacturers, allowing them to quickly substitute existing LED drivers with pre-approved EPtronics drivers without the need for recertification by UL.
Some of the latest LP25W and LP40W Rev C features include:
• Upgraded Dim-to-1% and Dim-to-Zero performance
• New Soft-Start option that enables fade to full-on startup dimming
• Faster startup time to any dim level (<500 ms, meets CA Title 24)
• Introducing new Constant Lumen Output Maintenance capability
• Added driver temperature logging functionality
• 2x faster firmware programming
LP Series drivers can be pre-programmed to meet customer requirements during manufacture and re-programmed in the field using EPtronics' EP-PRG-01 USB Interface Programming Tool. In addition, the optional EP-CRADLE-01 programming cradle allows OEMs to reduce SKUs and program LP Series drivers on their own assembly lines, accelerating time to market.
EPtronics, a leading manufacturer of solid-state lighting power products, offers the broadest selection of UL listed and recognized off-the-shelf LED drivers. Our US-engineered products ensure exceptional performance and reliability to satisfy your technical requirements. All EPtronics products are protected by a standard 5-year limited product warranty.
Learn more about EPtronics' LP Series Rev C programmable drivers and download datasheets at EPtronics.com. Call us today to discuss your LED power and control needs with our friendly LA-based staff, who are ready to provide quick or custom solutions for your unique lighting applications.
EPtronics, Inc:
EPtronics, Inc. is a leading innovator, designer and manufacturer of LED power supplies. We develop and continuously grow our line of LED drivers based on field applications and input from customers including many leaders in the LED lighting industries. – EPtronics.com