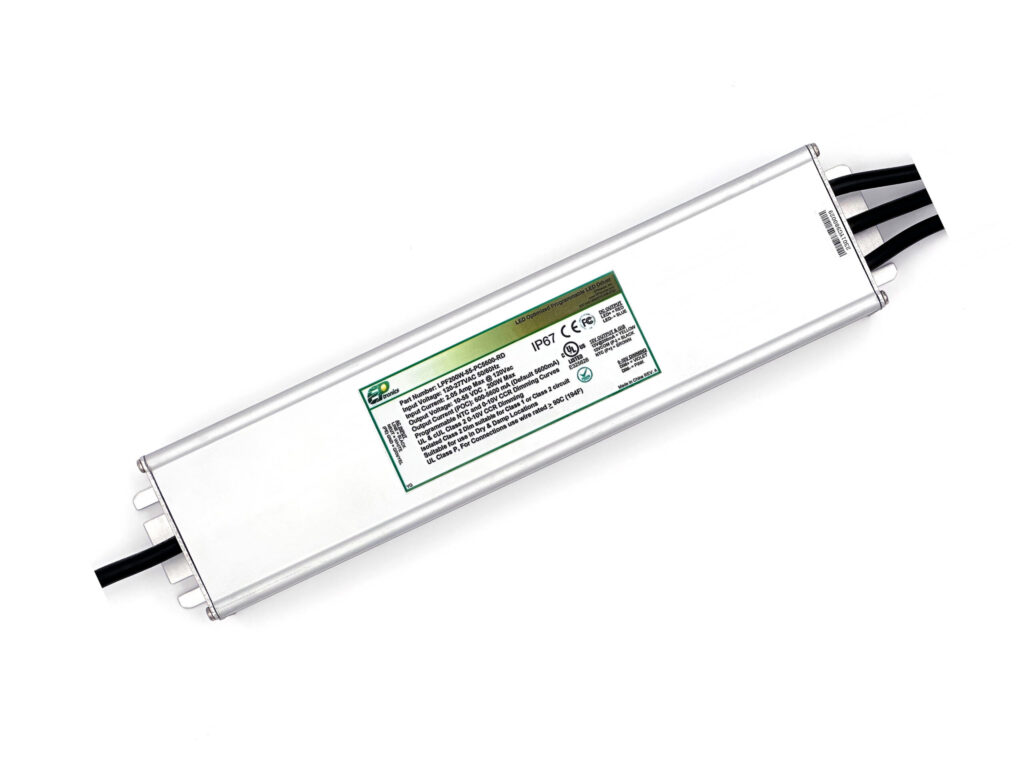 LOS ANGELES, CA  —  EPtronics is excited to announce its newest generation of best-in-class programmable constant current LED drivers. The LPF Series are EPtronics' latest flicker-free drivers included in UL's Class P LED Driver Program. UL Listed Class P can save considerable time and cost for LED luminaire manufacturers through the quick substitution of designed-in LED drivers without needing recertification by UL. Now that's L-P-Flexibility!
EPtronics' LPF Series of programmable drivers are available now in a wider range of output models than ever before: 30W, 40W, 75W, 100W, 150W, 200W, 240W, and 300W.
Special features include:
Advanced 2-Stage Flicker Free Output: Wide Programmable Output Current Range and CCR Dimming (0-10V Linear or LOG Dimming 1% – 100%)
Universal AC Input: 120 – 277VAC, 50/60Hz
Fast Programming: Wired or Wireless NFC options
Advanced Lighting Settings: Programmable Dim-to-Zero, Soft Start, Dim Disable, NTC Thermistor Input, Constant Lumen Table, and more
Built-in Diagnostics and Logging Functions; Programmable End of Life Indicator
Sensor Ready, Auxiliary Output: 12VDC @ 200mA for External Devices
Time to First Light meets CA Title 24 <500ms
LPF Series drivers can be pre-programmed to meet customer requirements during manufacture and re-programmed by the customer using EPtronics Software. The -RD wired programmable drivers require the EP-PRG-01 USB Interface Module, while the -RDNFC wireless programmable drivers require the FEIG ID-CPR30+ USB Interface Module. These programming tools enable OEMs to reduce SKUs and configure drivers on their own assembly lines, accelerating time to market.
Learn more about EPtronics' LPF Series of programmable drivers and download datasheets at EPtronics. Contact us today to discuss your LED power and control needs with our friendly LA-based staff, who are ready to provide quick or custom solutions for your standard to unique lighting applications.
EPtronics, a leading manufacturer of solid-state lighting power products, offers the broadest selection of UL listed and recognized off-the-shelf LED drivers. Our US-engineered products ensure exceptional performance and reliability to satisfy your technical requirements. All EPtronics products come standard with a 5-year limited product warranty.
CONTACT:
EPtronics, Inc.
Toll-Free: (800) 643-0688
Email: sales@eptronics.com